Build Your Career Skills Today!
At NOCE, you will get resources and strategies to launch your career. Join our career readiness and skills workshops. Get one on one training through the Career Resource Center (CRC).
Important Update:
NOCE Campuses Are Closed Until Further Notice. Career Resource Center will only be available by appointment only.
Schedule a phone or Zoom appointment today! All you need is a computer or mobile device:
Call CRC

: 714.808.4717

E

–

mail

:

careerhelp@noce.edu

. Appointments will be conducted by phone and/or

online

,

depending on the student's needs and desires.

Sign-up for workshops below

Career Resource Center Services
Make an appointment with a CRC staff member to work on:
Career exploration
Resume and cover letter building
Creating a LinkedIn profile and taking courses through LinkedIn Learning
Interview preparation
Job search
Online job applications
Soft skills workshops
LinkedIn Boot Camp Series
Career Launch Academy—FOR CTE PROGRAM STUDENTS ONLY
VMock Resume Review Platform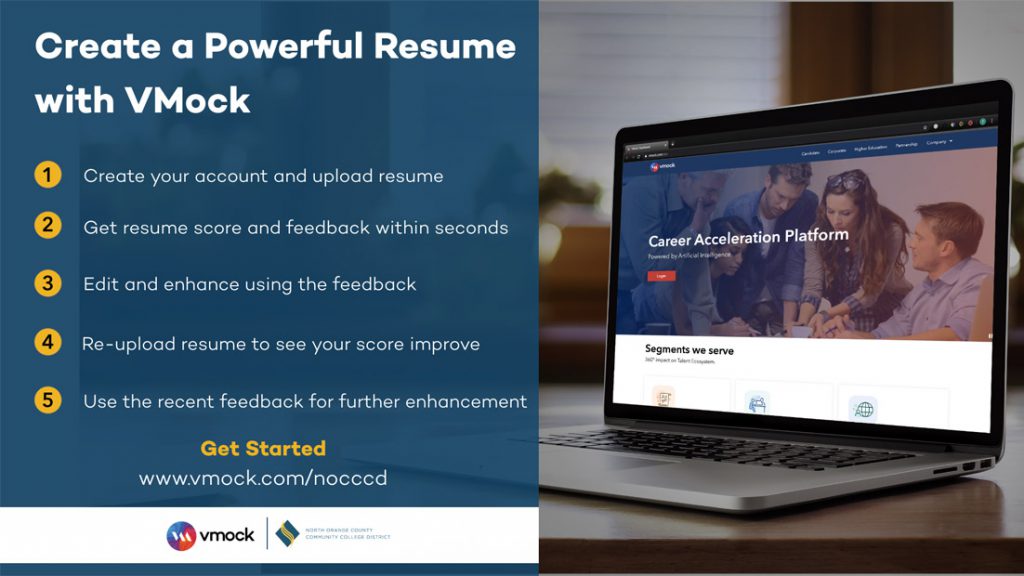 The Career Resource Center is excited to introduce a new resume review tool called VMock.
This online tool provides students with valuable feedback on how to improve their resumes.
Before you get started, here are a few tips:
Must have a completed professional resume with the following elements:

Contact Information (e-mail address and phone number)
Summary of Qualifications
Work and/or Volunteer Experience
Education
Skills
A resume should have a chronological or functional style.
The resume must be in PDF format.
The file must not be larger than 2MB
The resume should be a maximum of 4 pages.
Feel comfortable navigating online platforms
Get started with VMock
Improve your resume today!
Note: VMock gives you an overall score on your resume and then breaks down the percentage into 3 different categories. The score is meant to help you focus on sections that need improving. VMock will offer suggestions to help you create a strong and noticeable resume.
Workshops & Events
Note: All Career Resource Center workshops will be virtual via Zoom. An e-mail will be sent to you with meeting instructions before your workshop(s).
| Event Name | Event Dates | Event Time | Event Location | Event Information |
| --- | --- | --- | --- | --- |
| New CTE Student Welcome Workshop | Monday, June 7, 2021 | 5 p.m. – 6 p.m. | Virtual | Sign Up Now |
| Zoom 100 | Tuesday, June 8, 2021 | 5 p.m. – 5:30 p.m. | Virtual | Sign Up Now |
| Canvas 101 | Wednesday, June 9, 2021 | 5 p.m. – 5:30 p.m. | Virtual | Sign Up Now |
| Online Classroom Skills for Success | Thursday, June 10, 2021 | 5 p.m. – 6 p.m. | Virtual | Sign Up Now |
| Introduction to the Career Resource Center | Tuesday, June 15, 2021 | 5 p.m. – 6 p.m. | Virtual | Sign Up Now |
| The Benefits of LinkedIn | Wednesday, June 16, 2021 | 5 p.m. – 6 p.m. | Virtual | Sign Up Now |
| Social Diversity Awareness | Thursday, June 17, 2021 | 5 p.m. – 6 p.m. | Virtual | Sign Up Now |
| Resume Building Basics | Tuesday, June 22, 2021 | 5 p.m. – 6 p.m. | Virtual | Sign Up Now |
| Cover Letter Basics | Wednesday, June 23, 2021 | 5 p.m. – 6 p.m. | Virtual | Sign Up Now |
| How to Fill Out a Job Application | Thursday, June 24, 2021 | 5 p.m. – 6 p.m. | Virtual | Sign Up Now |
| Rock Your Interview | Tuesday, June 29, 2021 | 5 p.m. – 6 p.m. | Virtual | Sign Up Now |
| How to Interview via Zoom or Skype | Wednesday, June 30, 2021 | 5 p.m. – 6 p.m. | Virtual | Sign Up Now |