Build Your Future in Electrical Technology!
Prepare for a career in the electrical field with training at NOCE. Our Electrical Technology Certificate offers practical training to install, maintain, and repair electrical equipment and systems.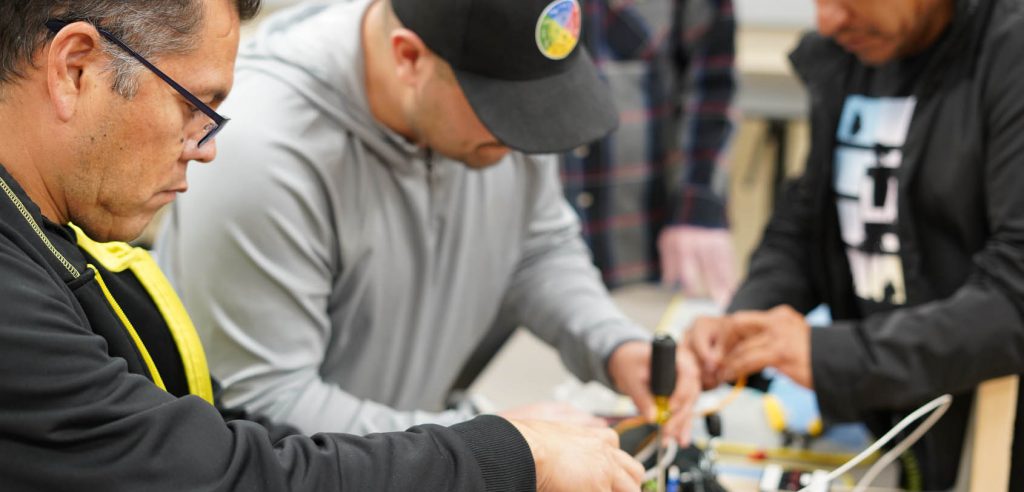 The Electrical Technology Certificate Program prepares students for entry-level employment in numerous electrical and electrical-related trades. The program integrates electrical theory with a hands-on application where students receive practical training to develop the foundational skills necessary to install, maintain, and repair electrical equipment and systems in residential, commercial, and industrial buildings.
Please note that the Electrical Technology Certificate Program will not qualify students to work for a C-10 contractor and will not qualify students to sit for the state certification exam.
What You'll Learn
Students who complete the program will learn to:

Develop math skills for the electrical trades
Design basic blueprints
Calculate circuit values of voltage, amperage, resistance, and power for direct circuits
Wire, assemble, test, and energize electrical projects
Understand safe work practices
Label, tabulate and compute alternating current distribution and loads
Connect single-phase and three-phase transformers and motors to industry standards
Select appropriate wiring materials for industrial projects according to the National Electrical Code
Properly perform 90-degree, offset type, and multiple bends with EMT and RMC conduits

To be eligible, you must:

Students must be 18 years or older
Complete an NOCE Admissions Application
Complete an online general orientation at least 24 hours before registering
Recommended: Have basic English language reading, writing, and speaking skills, and/or be at an ESL Intermediate High level
Recommended: Have basic math skills
Get Started!
NOCE certificate programs can put you on the path for exciting new career opportunities and more earning potential. Get started today!
Electricians perform duties related to the installation, maintenance, and repair of a wide variety of electrical systems and equipment. Some responsibilities include disassembling and reassembling electrical equipment, replacing defective or worn parts, examining electrical units, measuring materials and cutting components for installation, and maintaining and transporting tools
Career Highlights and Opportunities
English language proficiency – reading, writing, and speaking skills at or above an ESL (English as a second language) Intermediate High level
Ability to move and hold items with your hands
Active listening skills
Basic math skills
Integrity, dependability, independence, and attention to detail
Electricians
Electrical estimators
Electrical drafters
Line repairers and installers
* Previous work-related skills and experience are required for these occupations. 
Frequently Asked Questions
What do I receive when finished and how long does it take?

Students who complete the Electrical Technology program receive a certificate. The program can be completed in as little as 18 months.

How much does the program cost?

The Electrical Technology Certificate courses at NOCE are tuition-free. However, students are responsible for covering the cost of textbooks, software, course supplies, and a parking pass.

What is the job and pay outlook in California?

Career opportunities include:

Number of jobs in 2019: 9,790
2018-28 projected job growth: 15.9% (much higher than average)
Entry-level pay in 2019: $38,802/annually, $18.53/hour
Median pay in 2019: $62,530/annually, $30.06/hour

Note: Salary and employment outlook is for the Los Angeles/Orange County area of California, and will vary depending on skill, experience, employer, and geographic location.