Google IT Support Professional Pre-Apprenticeship Certificate Program
The Google IT Support Professional Certificate is designed to prepare students with the academic tools to provide service as an IT Support Professional. In the program, students are required to complete seven courses that prepare them with a solid IT support foundation.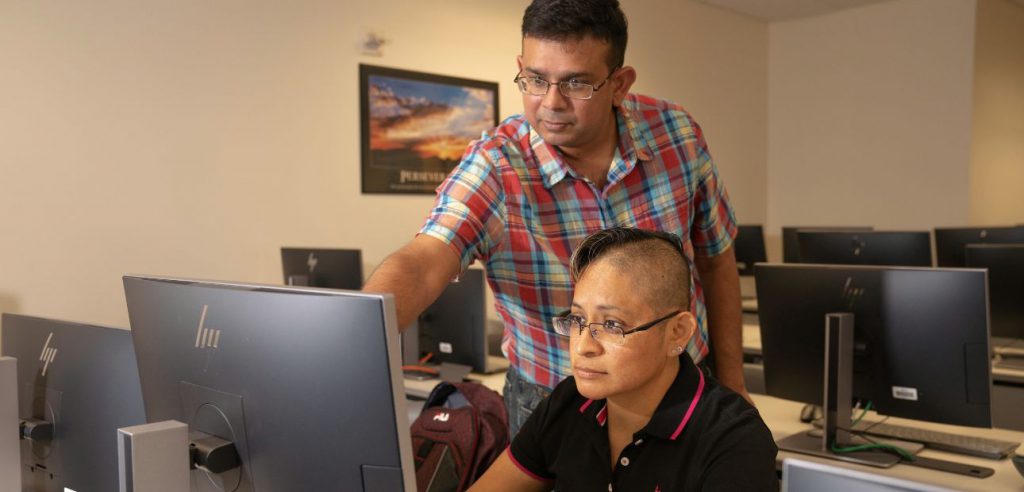 In this program, students will gain valuable professional skills in customer service, troubleshooting, network protocols, cloud computing, windows operating system, Linux command line, systems administration, encryption algorithms, and techniques. Students completing this program will meet the requirements of the OC Center of Excellence for Computer Network Support Specialist, Computer User Support Specialist, and Computer Systems Analyst.
What You'll Learn
Students who complete the program will learn to:

Utilize common problem-solving methodologies and soft skills in an Information Technology setting.
Explain how various encryption algorithms and techniques work as well as their benefits and limitations.
Define the Windows and Linux filesystems using a graphical user interface and command line interpreter.
Demonstrate an understanding of how the most common infrastructure services that keep an organization running work and how to manage infrastructure servers.
Define the standard protocols involved with TCP/IP communications.

To be eligible, you must:

Be 18 years or older
Complete an NOCE Admissions Application
Complete online orientation at least 24 hours before registering
Recommended: Have basic English language reading, writing, and speaking skills, and/or be at an ESL Intermediate High level
Recommended: Have basic math skills
Once you complete the Google IT Support Professional Pre-Apprenticeship Program certificate, you can seamlessly enroll in the online IT Support apprenticeship program through San Jose City College. The program is designed to prepare you for the Google IT Support Professional Certificate. Students who complete the program will also qualify for an apprenticeship experience with local businesses.
Keep Learning!
NOCE certificate programs can put you on the path to exciting new career opportunities and more earning potential.
Career Highlights and Opportunities
English language proficiency – reading, writing, and speaking skills usually at or above an ESL (English as a Second Language) Intermediate High level
Time management
Active listening
Basic computer and software knowledge
Character skills like integrity, dependability, independence, and attention to detail
IT Specialist
Tech Support Specialist
IT Support Specialist
Frequently Asked Questions
What do I receive when finished and how long does it take?

Students who complete the Google IT Support Professional Certificate program receive a certificate. The program can be completed in 18 months.

How much does it cost?

The Google IT Support Professional Certificate courses are tuition-free. However, students are responsible for covering the cost of textbooks, software, course supplies, and a parking pass.

What are the jobs and how much do they pay in California?

Career Opportunities and Titles include IT Specialist, Tech Support Specialist, and IT Support Specialist.

Number of Jobs in 2020: 9,206
Entry-level pay: $40,646/annually, $21.17/hour
Median pay: $52,032/annually, $27.10/hour

Note: Salary and employment outlook is for Orange County, CA, and will vary depending on skill, experience, employer, and geographic location.