Enhance the Quality and Enjoyment of Life! 
Engage in physical, mental, and nutritional wellness activities designed to enhance the quality and enjoyment of life.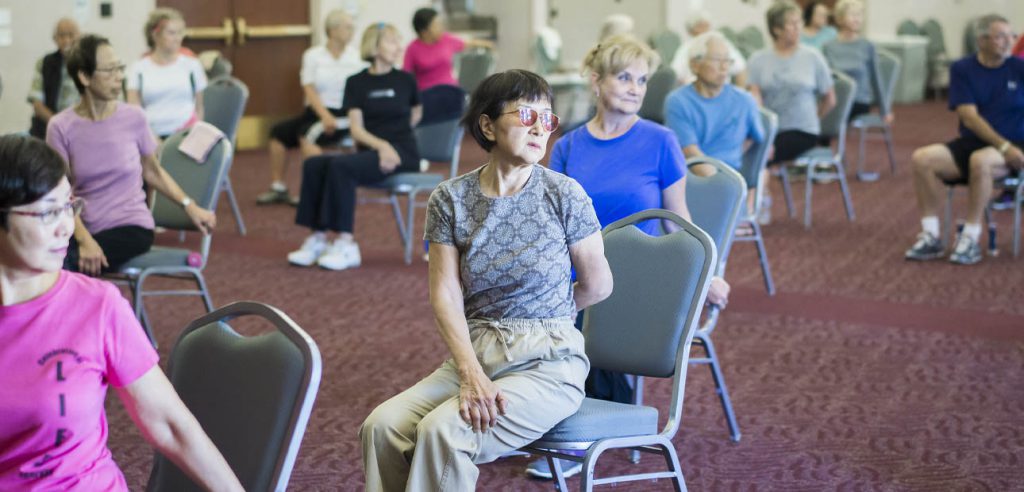 Learn balance and mobility techniques to prevent falls, strengthen your heart through fitness classes, increase brain and memory power in Staying Mentally Sharp, engage in stimulating discussion in Senior Topics, or learn the best food prep and nutrition tips for seniors.
Body & Mind Course Offerings
Want to learn how to maintain a safe and healthy life? You will want to enroll in Help Yourself to Health for Older Adults, where health-related topics will be discussed, and safe beneficial exercises intended to promote general health and fitness for older adults will be introduced. Each class will incorporate information, discussion, and exercises. Or enroll in Food Preparation and Good Nutrition for Older Adults to prepare, make, taste, and discuss various foods!
Train your brain and improve your memory!  Enrolling in Staying Mentally Sharp for Older Adults will provide you with the tools to reach your optimum levels of brainpower through skill-building with memory techniques. Also covered are decision-making, problem-solving, planning, and opportunities for cognitive growth.
Learn how humor and laughter have a therapeutic value to lift your spirits! The History of Comedy and Humor for Older Adults offers a look at past and present forms of comedy and humor. How does it relate to your life and what makes you laugh? Or turn that comedy into action – join the Beginning Drama for Older Adults class to learn about the world of theater. Students are encouraged to experiment and develop skills through plays and one-act performances.
In Health and Wellness for Older Adults, you'll learn the benefits of adopting behaviors for healthy and successful aging. Be proactive with diet, managing chronic conditions, and routine physical activity to live with optimum independence. A modified course is also offered for those with limited mobility.
Register for Classes
Refer to the NOCE Class Schedule for class details.
I have attended Emeritus Program classes for the past two years and I love attending my weekly Health and Wellness class so much that I never miss it! I am so grateful to learn new ways to maximize my physical strength and increase my capabilities. Geri Taylor
Emeritus Program Student