NOCE Anaheim Campus is Open!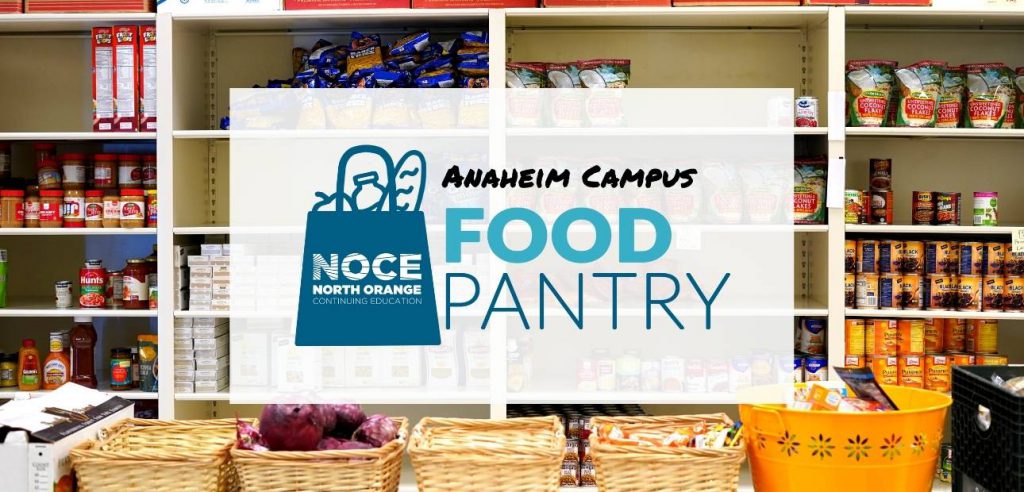 Students will need bring:
Student ID.
Class schedule (must be currently enrolled in classes).
Reusable grocery bags.
Students will receive:
Non-perishable and fresh food items.
Additional personal hygiene items may be requested or made available upon request if in stock.
---
About the Anaheim Campus Food Pantry
In collaboration with Pathways of Hope, NOCE provides students with non-perishable food, fresh produce, day-to-day necessities, and resource information at the Anaheim Campus Food Pantry. 
We welcome all NOCE students and Cypress College Culinary Program students who take classes at the Anaheim Campus. It is recommended that NOCE students at any other NOCE Centers can visit their campus-based food pantry: 
Anaheim Campus Food Pantry  
1830 W. Romneya Drive  
First Floor, Room 156 
Anaheim, CA 92801 
Operation Hours
Tuesdays and Wednesdays
10 a.m. – 1 p.m.
4 p.m. – 6 p.m.
Cypress College Food Pantry  
9200 Valley View Street 
Student Activities Center, Gym 2, 2nd floor  
Cypress, CA 90630 
Operation Hours 
Please visit the Cypress College Food Pantry page for more information.

Fullerton College Food Pantry  
321 East Chapman Avenue  
Building 1955 
Fullerton, CA 92832 
Operation Hours
Please visit the Fullerton College Food Pantry page for more information.
Pathways of Hope HUB
HUB of Hope is located at 611 S. Ford Avenue in Fullerton 
Distribution is Monday – Friday from 1 p.m. to 4 p.m.
Food will be packed in advance and students/employees can drive by and pick up a bag of food. 
Click here for the Hub of Hope fliers: English Flier and Spanish Flier.
Volunteers Needed!  
Looking for individuals who can consistently commit two to three hours per week and arrive on time.  
Volunteers do a variety of tasks: 
Food stocking

 

Organizing pantry and stocking produce

 

Food rescue

 

Driving to pick up food from local sources

 

F

ood distribution

 

Assisting students, collecting data, and managing the line



Apply to Become a Food Pantry Volunteer: 
For any questions and assistance, contact
Brittany Benford
at:
Email: bbenford@pohoc.org
Donate Today!
All food and hygiene donations will support NOCCCD students  
Food Items
Canned proteins: canned tuna, canned beef, canned ham, canned salmon, canned turkey, canned sausages, canned spam, canned pork, etc. Preferably cans with easy pull lids. 9oz to 20oz cans.

 

 

Bags of beans and rice: 2lbs bags, all types of rice and beans accepted.

 

 

Canned soup: beef soup, tomato soup, pork soup, clam chowder, etc. All canned soups accepted; preferably 9oz to 20oz cans.

 

 

Canned fruits: canned peaches, canned fruit mix/cocktail, canned mandarins, canned pineapples, canned tropical fruit, canned mangos, canned cherries, canned grapefruit, etc. Preferably cans with easy pull lids, 9oz to 20oz cans.

 

 

Canned sauces: pasta sauce, tomato sauce, alfredo sauce, etc. Glass containers are also accepted; preferably 10oz to 40oz containers.

 

 

Cereals: generic brand cereals, oatmeal, etc. Preferably a box of cereal, but cereal cups will also be accepted.

 

 

Nut butters: peanut butter, almond butter, cashew butter, powered butters, etc. Preferably 18oz peanut butter containers.

 

 

 
Hygiene products needed:
shampoo, body wash (not bars of soap), diapers (all sizes), body lotion, deodorant, pads/tampons, 
toothbrushes, toothpaste, baby wipes, sunscreen, razors, body wipes, and lip balm. 
Disclaimer: Make sure to find cans and boxes that have no signs of damage, dents, openings, punctures, etc. and with labels that are fully intact. Any cans or boxes that are damaged-even slightly- must be discarded.  
Drop-off Information
:
Before donating, please contact Brittany Benford to schedule a drop-off time.  
Email: bbenford@pohoc.org
To receive food at no charge, students must bring the following when visiting the Anaheim Campus Food Pantry:
Student ID

You must prove that you are a currently enrolled student. Don't have a student ID? Students can get their student ID printed at the Admissions and Registration Office on the second floor of the Anaheim Campus.

Your Current Class Schedule

Students must be currently enrolled at NOCE to access the food pantries. Students can print their schedule/bill or show it on their smartphones.

 

Reusable Grocery Bags

Students should bring their own reusable bags to carry their food; POH and the Anaheim Campus Food Pantry cannot provide you with a bag.
Service Navigation
Pathways of Hope provides service navigation to those facing food insecurity or housing instability. A Service Navigator can help you with completing intake, determining eligibility, and providing case management to new and returning NOCE students. Our service package includes:
Food pantry
Landlord mediation
Eviction prevention
Housing search
Rental assistance
Security deposit
Utility assistance
Social service navigation
Community resources
For more information, contact: Uriel Medina Pathways of Hope Service Navigator umedina@pohoc.org. For more information, check out the Service Navigation flier.
For questions and assistance, contact: emergencyaid@noce.edu; 714.808.4682