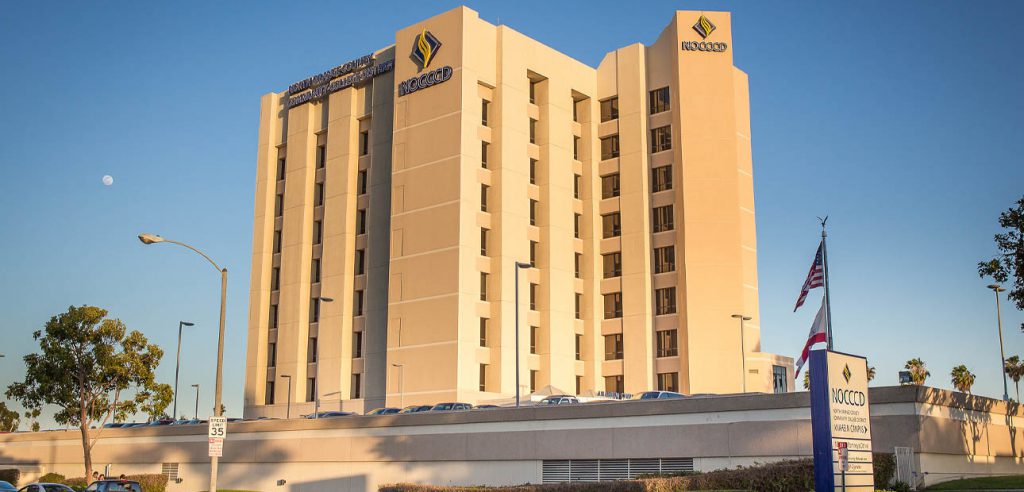 The Anaheim Campus is a 10-story building in the heart of Anaheim, centrally located between the 91, 5, and 57 freeways.
The campus serves more than 10,000 students each year in a variety of courses, programs and services. Anaheim Campus is home to:
North Orange County Community College District (NOCCCD) Administrative Offices
Chancellor's Office
Public Affairs
Human Resources
Risk Management
Equity and Diversity
Professional Development
Payroll and Accounting
Information Services
Printing and Design
Maintenance and Operations
North Orange Continuing Education (NOCE) Administrative offices
President's Office
Vice President of Instructional Programs
Vice President of Student Services
Instructional Technology Services
Administrative Services/Budget and Accounting
Campus Communications
Student Equity
Campus Safety
Classrooms and offices for all NOCE instructional program and service areas
Online/Remote Admissions & Registration Assistance
**All NOCE Centers are currently closed due to the global pandemic and social distancing order. However, students can still apply and register online. Our NOCE Admissions and Registration StarHelp Customer Service team is available to help you:
Phone: 714.808.4679
E-mail: starhelp@noce.edu
Hours: Monday – Thursday: 8 a.m. – 4:30 p.m.
The Anaheim Campus continues to evolve with the changing needs of our students, local employers, and the North Orange County community.
In addition, the Anaheim Campus hosts the bi-monthly NOCCCD Board of Trustees meetings and has several conference rooms for professional developments, events, and large meetings.
The Anaheim Campus is a dedicated space for NOCE classrooms and staff offices.
Notable programs include:
Disability Support Services (DSS)
ARISE Hub
Lifeskills Education Advancement Education (LEAP)
Basic Skills/High School Diploma Program
Counseling and Student Services
Community Services courses
Kids' College & Teen Program
English as a Second Language (ESL) Program
Helping Hands Clothing Closet
Anaheim Campus Food Pantry
Career Technical Education (CTE) Program with the following courses and certificate programs:

Administrative Professional
Business Information Worker
Computers
Medical Assistant
Early Childhood Education
Pharmacy Technician
Funeral Service Assistant
Quality Assurance Management for Medical Devices
Electrical Trainee
Management