Begin Your New Career in Bookkeeping!
This program is designed to prepare students for a career as an entry-level bookkeeper or provide the necessary knowledge of basic bookkeeping functions for business owners or entrepreneurs.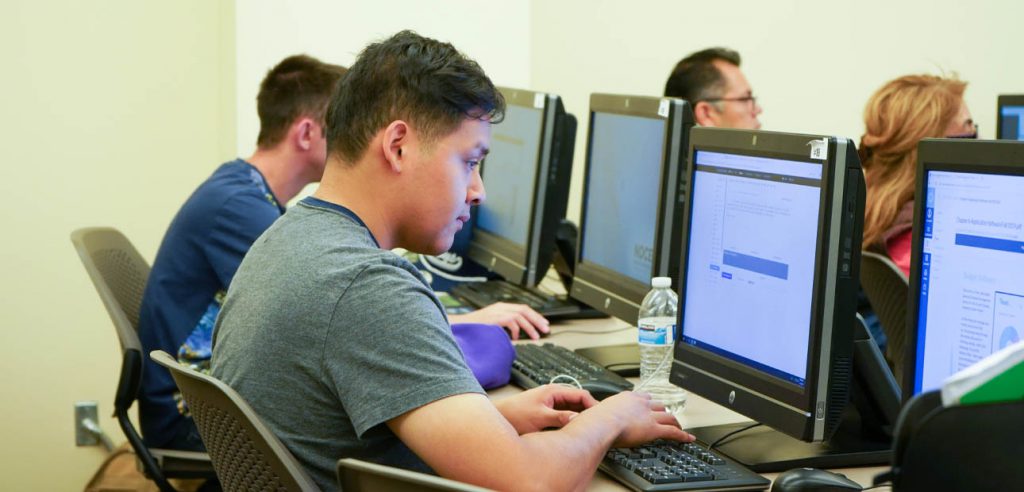 Bookkeepers maintain their employers' financial records by using accounting software and other tools. As they play such a significant role in determining their companies' success, employers want only the most highly trained and ethical bookkeepers.
What You'll Learn
Students who complete the program will learn to:

Analyze and record financial transactions

.

Accounting principles and reporting standards

.

Compute standard payroll withholdings

.

Prepare business invoices, sales receipts, and purchase orders

.

To be eligible, you must:

Students must be 18 years or older.

Complete an 

NOCE Admissions Application.

Complete an online general orientation at least 24 hours before registering.  

 

Recommended – Have basic English reading, writing, and speaking skills, and/or be at an ESL Intermediate High level.

Recommended – Have basic computer skills.
Get Started!
NOCE's programs can put you on the path for exciting new career opportunities and more earning potential.  Get started today!
Bookkeepers work with financial transactions and records, such as expenditures, receipts, accounts payable/receivable, and profit and loss records. They represent a wide range of skills and knowledge, from maintaining an entire company's books to handling a specific account.
Career Highlights and Opportunities
English language – reading, writing, and speaking skills usually at or above an ESL (English as a Second Language) Intermediate High level. 

 

Mathematics — Using mathematics to solve problems

.

Interacting With Computers — Using computers and computer systems (including hardware and software) to program, write software, set up functions, enter data, or process information

.

Getting Information — Observing, receiving, and otherwise obtaining information from all relevant sources

.
Bookkeeper

 

Accounting Clerk

Auditing Clerk
Keep complete, up-to-date, and accurate records of accounts and financial arrangements.

 

Balance the books and compile reports and financial statements.

 

Operate computers programmed with accounting software to record, store, and analyze information.

 

Comply with federal, state, and company policies, procedures, and regulations.

 

Check figures and documents for correct entry, mathematical accuracy, and proper codes.

 

Receive, record, and bank cash, checks, and vouchers.
Frequently Asked Questions
What do I receive when I finish and how long does it take?

Students who complete the Bookkeeping program receive a certificate of completion. The program can be completed in as little as 4 months.

How much does it cost?

The Bookkeeping courses are tuition-free.

However, students are responsible for covering the cost of textbooks, software, course supplies, and a parking pass.

What are the jobs and how much do they pay in California?

Career opportunities include bookkeeper, accounting clerk, and auditing clerk.    

Number of jobs in 2020: 19,316 

 

Entry-level pay in 2020: $30,545/annually, $14.69/hour 

 

Median pay in 2020: $49,033/annually, $23.57/hour 

 

Note: Salary and employment outlook is for Orange County, CA, and will vary depending on skill, experience, employer, and geographic location.