Start Your Path to a Healthcare Career as a Medical Assistant.
NOCE's Medical Assistant Certificate provides the first steps to enter a new career. If you enjoy helping others and working with doctors, enroll today!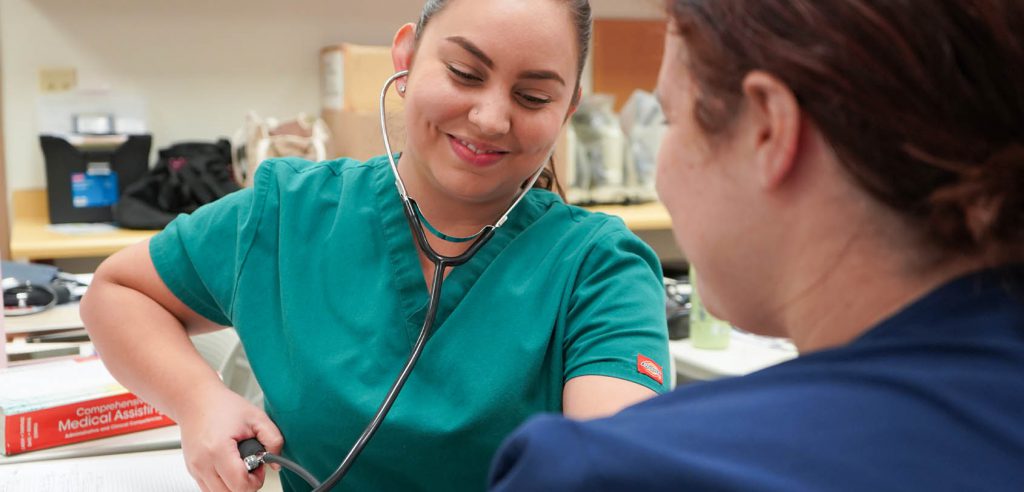 This program will prepare students for an entry-level position as a medical assistant in an administrative and/or a clinical setting. The program consists of courses that prepare students with the knowledge and skills needed to perform a medical assistant's tasks in medical and healthcare settings.
What You'll Learn
Get Started!
NOCE's programs can put you on the path for exciting new career opportunities and more earning potential.  Get started today!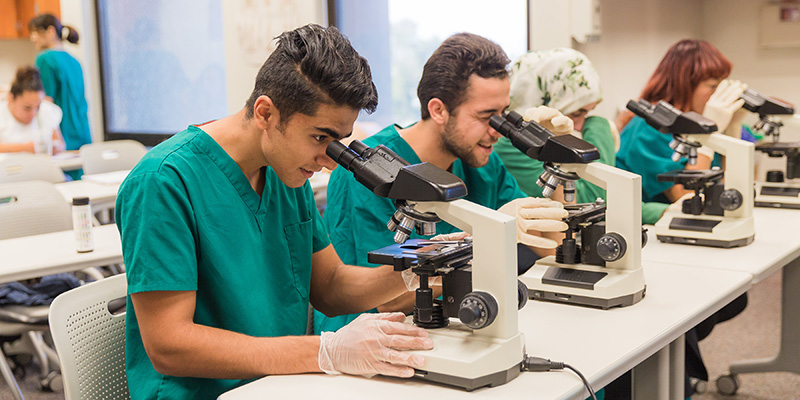 As a medical assistant, you'll help your healthcare facility run efficiently. This involves performing clinical and administrative duties. Admin duties may include: scheduling appointments, maintaining medical and billing records, and coding insurance information. Clinical duties may include: taking and recording vital signs, recording medical histories, preparing patients for exams, and administering medication.
Career Highlights and Opportunities
English language – reading, writing, and speaking skills usually at or above an ESL (English as a Second Language) Intermediate High level




Social Perceptiveness

–

Understanding people's reactions

 

Active Listening – Listening to others, not interrupting, and asking good questions

 
Medical Assistant (MA)

 

Medical Office Assistant

 

Ce

rtified Medical Assistant (CMA)

 

Clinical Assistant

 

Medical Reception/Receptionist

 

Medical Administrative
Record patients' medical history, vital statistics, or information such as test results in medical records.
Prepare treatment rooms for patient examinations, keeping the rooms neat and clean.
Interview patients to obtain medical information and measure their vital signs, weight, and height.
Explain treatment procedures, medications, diets, or physicians' instructions to patients.
Clean and sterilize instruments and dispose of contaminated supplies.
Perform general office duties, such as answering telephones, taking dictation, or completing insurance forms.
Schedule appointments for patients.
Frequently Asked Questions
What do I receive when finished and how long does it take?

Students who complete the Medical Assistant program receive a certificate with an emphasis in Front Office or Front and Back Office work. The program can be completed in as little as 8-10 months.

How much does it cost?

The Medical Assistant courses are tuition-free. However, students are responsible for covering the cost of textbooks, scrubs, course supplies, and a parking pass. 

What are the jobs and how much do they pay in California?

Career opportunities include medical assistant, medical office assistant, certified medical assistant, clinical assistant, medical reception/receptionist, and medical administrative  

N

umber of jobs in 2018: 9,569

 

2018-28 projected job growth: 2

2

%

 

Entry-level pay in 2018: $28,808/annually, $13.85

/hour

 

Median pay i

n 2018: $34,715/annually, $16.69

/hour

 

Note: Salary and employment outlook is for Orange County, CA, and will vary depending on skill, experience, employer, and geographic location.   
I was a physician in my home country of Syria, and I was highly credentialed in nutritional medicine. But, as a father of three I made the difficult decision to leave my home country and come to the United States for better opportunities. I enrolled in the Medical Assistant Certificate Program at NOCE so I can one day practice medicine again in the U.S. Mohammed Jamal
CTE Program Graduate – Medical Assistant Certificate Program